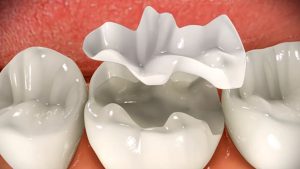 Porcelain fillings are one of the important procedures in dental restoration. Porcelain fillings, which are used in dental caries, discoloration occurring as a result of irregular and poor oral care or traumatic minor fractures, are an alternative to composite fillings. However, unlike composite fillings, they are produced specifically for the patient in the laboratory according to the size of patient's teeth. In this context, it takes 1 more session to apply them as compared to a normal filling procedure. 
Porcelain fillings are separated as inlays and onlays and they are used in different areas. Inlay porcelain fillings are used to restore damaged part within the tooth without removing any outer structure of the tooth that is intact, while onlay porcelain fillings are used if there is excessive substance loss in the tooth including the tooth side tissues.
 
The application of Inlay - Onlay fillings is similar to composite fillings. The only difference is that they are prepared specially for the patient, and it takes some time to determine the filling size and prepare porcelain fillings before application. As for the composite fillings, first the dental caries are removed, if any, and then sizes of the teeth are determined. Since the porcelain fillings will be placed in the next session, temporary filling is applied between two sessions so that the patient does not have any trouble. In the second session, first of all fitting of the filling prepared for the patient is checked, and if there is no problem, inlay - onlay porcelain fillings are placed into the patient's mouth, using special porcelain filling adhesives. 
Inlay - Onlay fillings never decay like teeth and never change color since their surfaces are polished. However, dental care should never be disrupted by relying on this. Although there will be no problem in the fillings when oral hygiene is not fully provided, problems may occur in the natural tooth structure where the filling is applied. 
You can protect your dental health and extend the life of performed dental treatments with regular and effective oral care.