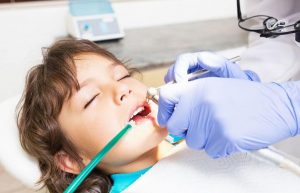 We can describe sedation that provides temporary relief and a kind of sleepiness to the patient as a mild but effective type of anesthesia. Although sedation is usually applied by injecting drugs into a vein as anesthesia, it can also be performed with sedative drugs which can be given orally or through inhalation.
The purpose of sedation is to relax the patients for the procedure and to make them sleepy by maintaining their reflexes. Thus, the patient does not feel any pain during the procedure, and mostly the patient does not even remember the procedures performed or the sounds during the procedure when the effect of sedation passes after the procedure. Therefore, the use of sedation is an effective method. Sometimes, it might be required to maintain the reflexes of the patients during the dental procedure to be applied. At this point, sedation is a good method. 
Dental treatment with sedation is the ideal method for the patients who experience dentist phobia or delay their dental examinations due to various health problems such as fear and anxiety. The patients do not lose control since they are not be completely asleep, and they do not experience a traumatic situation that will prevent them from coming to the clinic again since they do not remember the procedure due to the method used. 
The comfort of the patient during the treatment is as important as the treatments to be applied. In addition to the effectiveness of the treatments, it is also important that the patient will not experience any pain and will feel comfortable without any tension during the procedures. 
For detailed information about dental treatments using sedation, you can contact our clinic and ask what you are curious about, and make an appointment for your dental treatment.
Don't forget! Dental treatments with sedation are effective, comfortable and practical procedures. You can get rid of the feelings of fear and panic that result in delaying or avoiding your dental treatments with a comfortable sedation procedure, and thus you can easily have the necessary dental treatment and reach healthy smiles. 
Do not neglect your dental health!